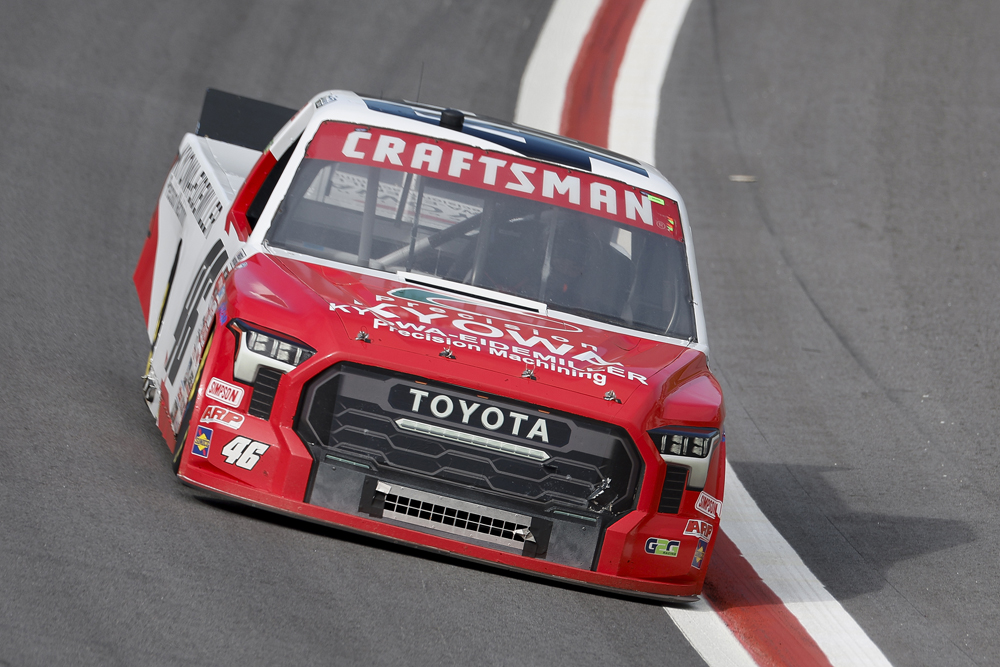 RECENT NEWS
Ogata finishes 17th in NASCAR Truck Series Race
3/20/23
Akinori completes the NASCAR Craftsman Truck Series race at Atlanta with a career best 17th place finish!
Continue Reading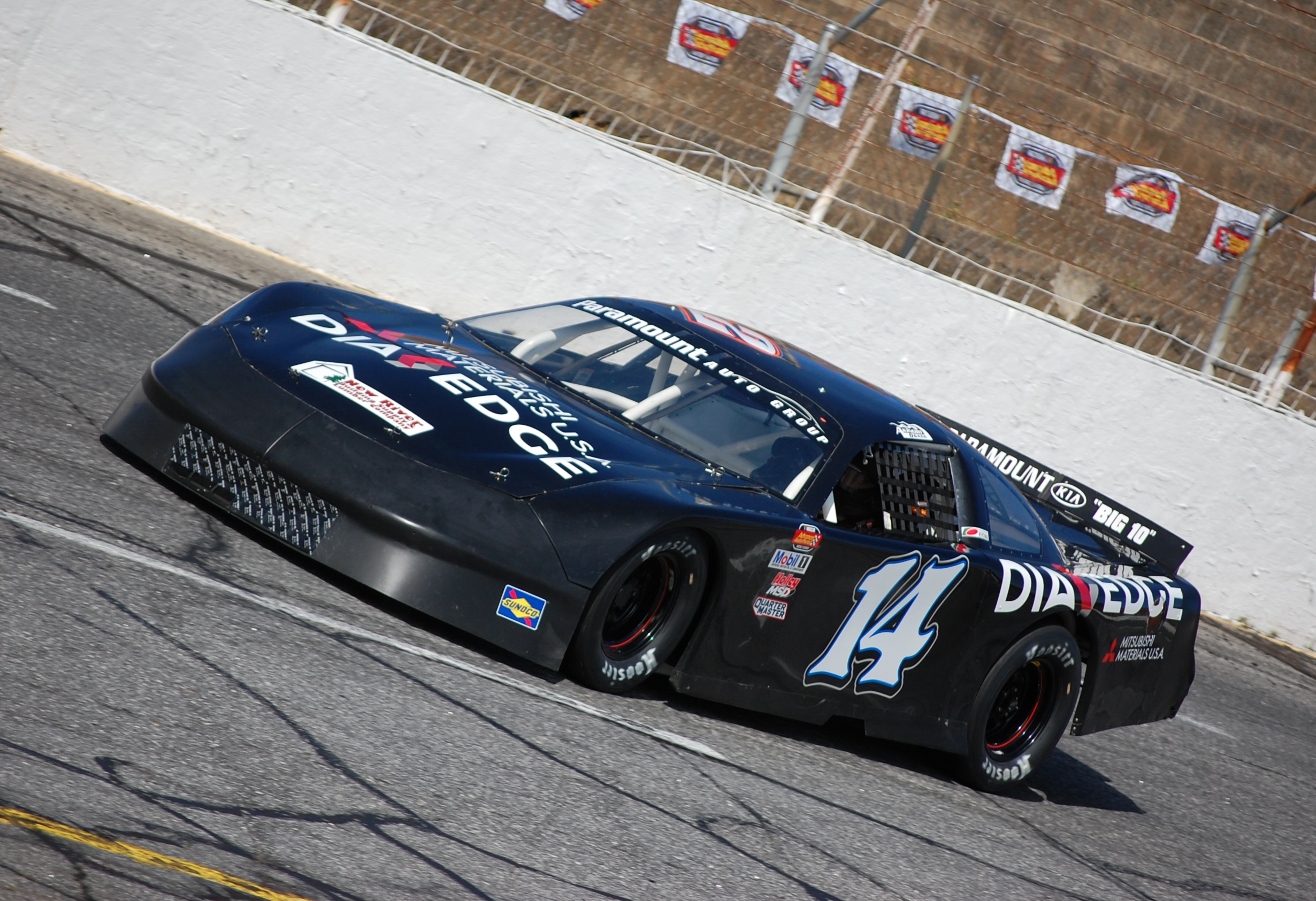 8th place finishes at Hickory in the Twin 40 lap races
3/13/23
Akinori has short time to prep car, but manages back to back 8th place finishes on Saturday Night
Continue Reading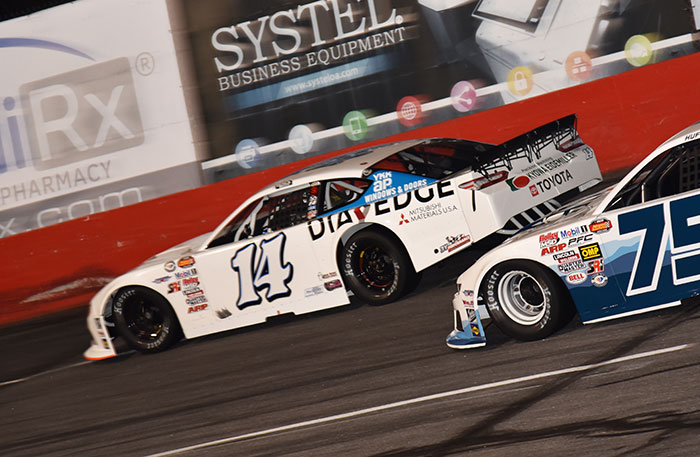 Wreck causes an unfortunate beginning to the 2023 season
3/6/23
Akinori gets tangled up in wreck and finishes 16th. Next Race: March 11th @ Hickory
Continue Reading
In his native Kanagawa, Japan, Ogata was a race-winning rider in Motocross, a sport he participated in from age 14. At age 26, he shifted from Motocross to Dirt Midget racing, becoming a winning driver at Twin Ring Motegi. Ogata, who enjoyed watching NASCAR on television, opened a NASCAR hobby shop near Tokyo in 1997, but he soon felt compelled to link Japan and America's top form of auto racing more directly. While on his honeymoon in the United States., he realized that it was time to pursue his "American Dream" of racing in the Daytona 500 a reality.

In 2010, he made the 6,890-mile journey to Mooresville, N.C., the hub of NASCAR, to make the competitive jump from Dirt Midget racing to Stock Car racing. Ogata's first foray into American racing began in the NASCAR Advance Auto Parts Weekly Series racing late model stock cars at Hickory (N.C.) Motor Speedway. Racing at Hickory allowed him to learn his race craft and prepared him for his NASCAR K&N Pro Series East debut in 2012. Across 12 starts in three years, Ogata scored five top-20 finishes with a best finish of 16th at New Hampshire Motor Speedway. After three years in the K&N Pro series, he made his NASCAR CRAFTSMAN Truck Series debut at Phoenix (Ariz.) Raceway for Win-Tron Racing in 2014. In 2018, Ogata returned to Phoenix to make his NASCAR Xfinity Series debut with MBM Motorsports.

While working to make his dream of racing in the Daytona 500 a reality, Ogata has made at least one start in the Truck Series each season and continues to race at Hickory in the limited late model class. Ogata is currently the only Japanese winner in NASCAR.

2023 Schedule & Race Results
| Date | Race/Track | Series | Results |
| --- | --- | --- | --- |
| October 14th | Hickory Motor Speedway | NASCAR Advance Auto Parts Weekly Series / 200 laps | |
| September 16th | Hickory Motor Speedway | NASCAR Advance Auto Parts Weekly Series / 75 laps | |
| September 2nd | Hickory Motor Speedway | NASCAR Advance Auto Parts Weekly Series / 150 laps | |
| August 25th | Hickory Motor Speedway | NASCAR Advance Auto Parts Weekly Series / Twin 40 | |
| August 13th | Singapore | Legend Car Singapore | |
| August 5th | Hickory Motor Speedway | NASCAR Advance Auto Parts Weekly Series / 75 laps | |
| July 22nd | Hickory Motor Speedway | NASCAR Advance Auto Parts Weekly Series / Twin 40 | |
| July 8th | Atlanta Motor Speedway | NASCAR Xfinity Series / 163 laps | |
| June 10th | Hickory Motor Speedway | NASCAR Advance Auto Parts Weekly Series / 111 laps | |
| June 3rd | Hickory Motor Speedway | NASCAR Advance Auto Parts Weekly Series / Twin 40 | |
| May 20th | Hickory Motor Speedway | NASCAR Advance Auto Parts Weekly Series / Twin 40 | |
| May 6th | Hickory Motor Speedway | NASCAR Advance Auto Parts Weekly Series / Twin 40 | |
| April 29th | Hickory Motor Speedway | NASCAR Advance Auto Parts Weekly Series / Twin 40 | |
| April 8th | Hickory Motor Speedway | NASCAR Advance Auto Parts Weekly Series / 75 laps | |
| April 1st | Hickory Motor Speedway | NASCAR Advance Auto Parts Weekly Series / Twin 40 | |
| March 18th | Atlanta Motor Speedway | NASCAR CRAFTSMAN TRUCK SERIES | 17th |
| March 11th | Hickory Motor Speedway | NASCAR Advance Auto Parts Weekly Series / Twin 40 | Race 1 - 8th, Race 2 - 8th |
| March 4th | Hickory Motor Speedway | NASCAR Advance Auto Parts Weekly Series / Twin 40 | 16th |
---
2022 Schedule & Race Results
| Date | Race/Track | Series | Results |
| --- | --- | --- | --- |
| November 12th | Hickory Motor Speedway | Limited Late Model Stock | 15th |
| September 24th | Texas Motor Speedway | NASCAR Xfinity Series | 35th |
| September 17th | Hickory Motor Speedway | Late Model Stock | 8th |
| September 10th | Kansas Speedway | NASCAR Xfinity Series | DNQ |
| September 3rd | Hickory Motor Speedway | Limited Late Model Stock | 4th |
| August 30/31 | North Wilkesboro Speedway | Limited Late Model Stock | 9th/15th |
| August 6th | Michigan International Speedway | NASCAR Xfinity Series | DNQ |
| July 23rd | Hickory Motor Speedway | Limited Late Model Stock | 1st |
| July 16th | New Hampshire Motor Speedway | NASCAR Xfinity Series | 25th |
| June 25th | Hickory Motor Speedway | Limited Late Model Stock | 2nd |
| June 11th | Hickory Motor Speedway | Limited Late Model Stock | 2nd |
| June 4th | Hickory Motor Speedway | Limited Late Model Stock | 1st |
| May 21st | Hickory Motor Speedway | Limited Late Model Stock | 8th |
| May 7th | Hickory Motor Speedway | Limited Late Model Stock | 1st |
| May 6th | Darlington Motor Speedway | NASCAR Camping World Truck Series | 35th |
| April 30th | Hickory Motor Speedway | Limited Late Model Stock | 1st |
| April 23rd | Hickory Motor Speedway | Limited Late Model Stock | 3rd |
| April 9th | Hickory Motor Speedway | Limited Late Model Stock | 1st |
| April 2nd | Hickory Motor Speedway | Limited Late Model Stock | 2nd |