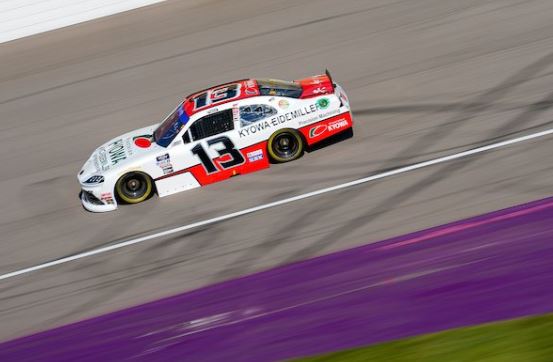 RECENT NEWS
Akinori does not qualify for Michigan
8/8/22
Akinori's #13 Kyowa Industrial/KYOWA-EIDEMILLER, MBMMotorsports TOYOTA GR Supra fails to qualify for Michigan. Ogata eyes North Wilkesboro for next race.
View More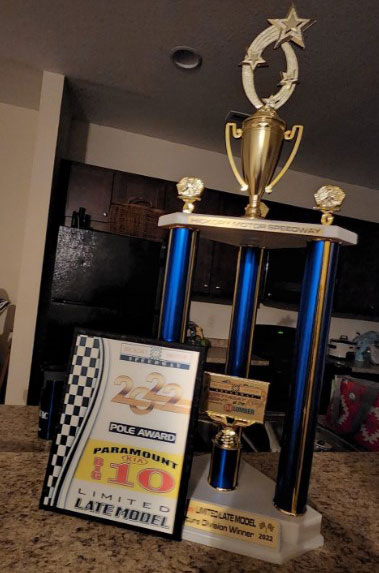 Akinori adds Michigan Speedway Xfinity race to the schedule!
7/29/22
Akinori announced on Wednesday that he will be heading to Michigan International Speedway to compete in Xfinity series on August 6th. He will be driving the #13 Kyowa Industrial/KYOWA-EIDEMILLER, MBMMotorsports TOYOTA GR Supra!
View More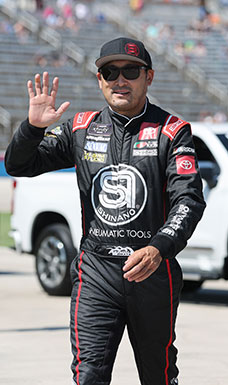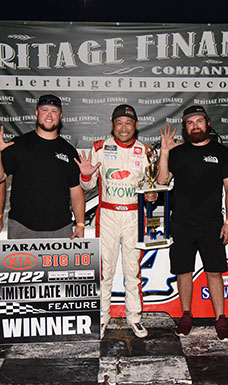 Meet
Akinori
Ogata
Quick Facts
Appeared in 2 NASCAR XFINITY Series Races in 2021
In 2022 Akinori will race in his 8th season for the Camping World Truck Series
Finished the season in 26th (2013) for the NASCAR K&N Pro Series - East
Raced in Dirt Midget car race in Japan from 1999-2006
1 win and 5 Top 5 finishes in 28 races (Dirt Midget)
From 1988-1999 raced Motocross with over 250+ races and multiple wins
Akinori started racing Motocross at 14 years old and his passion of racing grew while young. His first vist to the United States was his honeymoon when he was 22 years old. He was impressed by the greatness of America and also knew that NASCAR racing is one of the greatest sports and cultures in the United States.

Shortly after his honeymoon Akinori began starting races in the NASCAR grassroots series in North Carolina. He then moved permanently to the Tar Heel state to continue his focus on racing in 2010. His debut, back in 2004, was with the NASCAR Gander RV & Outdoors Truck Series. Now, Akinori loves the challenge of being a Japanese native driver in the NASCAR series.

2022 Schedule & Race Results
| Date | Race/Track | Series | Results |
| --- | --- | --- | --- |
| October 15th | Hickory Motor Speedway | Limited Late Model Stock | TBD |
| September 24th | Texas Motor Speedway | NASCAR Xfinity Series | TBD |
| September 17th | Hickory Motor Speedway | Limited Late Model Stock | TBD |
| September 3rd | Hickory Motor Speedway | Limited Late Model Stock | TBD |
| August 30/31 | North Wilkesboro Speedway | Limited Late Model Stock | TBD |
| August 6th | Michigan International Speedway | NASCAR Xfinity Series | DNQ |
| July 23rd | Hickory Motor Speedway | Limited Late Model Stock | 1st |
| July 16th | New Hampshire Motor Speedway | NASCAR Xfinity Series | 25th |
| June 25th | Hickory Motor Speedway | Limited Late Model Stock | 2nd |
| June 11th | Hickory Motor Speedway | Limited Late Model Stock | 2nd |
| June 4th | Hickory Motor Speedway | Limited Late Model Stock | 1st |
| May 21st | Hickory Motor Speedway | Limited Late Model Stock | 8th |
| May 7th | Hickory Motor Speedway | Limited Late Model Stock | 1st |
| May 6th | Darlington Motor Speedway | NASCAR Camping World Truck Series | 35th |
| April 30th | Hickory Motor Speedway | Limited Late Model Stock | 1st |
| April 23rd | Hickory Motor Speedway | Limited Late Model Stock | 3rd |
| April 9th | Hickory Motor Speedway | Limited Late Model Stock | 1st |
| April 2nd | Hickory Motor Speedway | Limited Late Model Stock | 2nd |
---
2021 Schedule & Race Results
| Date | Race/Track | Series | Results |
| --- | --- | --- | --- |
| November 16th | Hickory Motor Speedway | Late Model Stock | 22nd |
| October 30th | Martinsville | NASCAR XFinity | 26th |
| September 11th | Richmond | NASCAR XFinity | 34th |
| September 8th | Hickory Motor Speedway | Late Model Stock | 2nd |
| September 4th | Hickory Motor Speedway | Late Model Stock | 3rd |
| August 7th | Hickory Motor Speedway | Late Model Stock | 2nd |
| July 24th | Hickory Motor Speedway | Late Model Stock | 3rd |
| July 10th | Hickory Motor Speedway | Late Model Stock | 3rd |
| May 30th | Hickory Motor Speedway | Late Model Stock | 6th |
| May 28th | Charlotte Motor Speedway | NASCAR Camping World Truck | 28th |
| May 22nd | Hickory Motor Speedway | Late Model Stock | 6th |
| May 7th | Darlington Raceway | NASCAR Camping World Truck | 34th |
| May 1st | Tri-County | Late Model Stock | 12th |
| April 17th | Hickory Motor Speedway | Late Model Stock | 5th |
| March 27th | - | Late Model Stock | 9th |
| March 20th | Atlanta Motor Speedway | NASCAR Camping World Truck | 37th |
| March 13th | - | Late Model Stock | 4th |